Interview with NoViolet Bulawayo, by Emmanuel Sigauke
June 3, 2013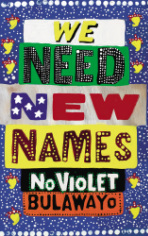 The San Francisco launch of NoViolet Bulawayo's debut novel, "We Need New Names", happened on Tuesday, May 21st, at 7 p.m., what would normally be an inconvenient time for me, given that I had to drive the 97 miles from Sacramento, and the drive can often take over two hours. But I had to go. I reasoned that it's not very day, or week, or month, or year that we get to launch a book by a Zimbabwean writer in Northern California. And this wasn't just any Zimbabwean writer, this was NoViolet Bulawayo, a writer who had her first story published by Munyori Literary Journal. Adding to that, she has over the years become a literary sister, and I have felt that we have been on this journey together, to capture our stories and make them available to the world, stories which have the power to illuminate a part of the Zimbabwean experience, and indeed the human experience, to readers everywhere. Being present at that San Francisco launch gave me pride as a witness to an event opening an important chapter in Zimbabwean and World literature (This is a book that everyone should read; if not for the great writing, then for the interesting protagonist, Darling).

To add to the symbolic nature of the launch was the fact that it was done in the form of an interview conducted by fellow Zimbabwean writer Sarah Ladipo Manyika. Sarah's questions were thoughtful and NoViolet's answers were incisive. The audience would later ask questions too, questions that showed both anticipation and satisfaction as some of the people present were looking forward to getting a copy, while others already had bought theirs. And it was great to hear NoViolet read her favorite passages from the novel, giving a voice to the words on the page.

We feature this brief interview with pride for the success of one of our own, and we wish NoViolet more success as We Need New Names hits the shelves all over the world. The novel hits UK stores on Thursday, June 6th.

NoViolet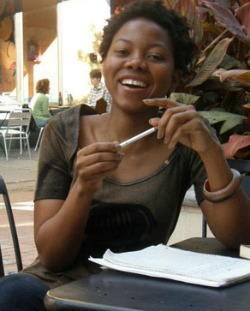 NoViolet Bulawayo is the author of We Need New Names, published by Little, Brown in the US, and Chatto and Windus in the UK. Her stories have won the 2011 Caine Prize for African Writing and shortlisted for the J.M. Coetzee - judged 2009 SA PEN Studzinsi Award. NoViolet earned her MFA at Cornell University where she was a recipient of the Truman Capote Fellowship, and most recently, a lecturer of English. She is now a Wallace Stegner Fellow at Stanford University. NoViolet was born and raised in Zimbabwe. Her first story to be published, "The Watcher", was published by Munyori Literary Journal in July 2009, and we are proud that she has gone ahead to distinguish herself as a literary star.



---
·
Emmanuel Sigauke: Tell me how you feel about the premiering of your novel. The world will know We need New Names as your debut novel; but does it feel so in your thinking. Is this, to you, truly your debut work, or is it part of the continuum creative works you have been working on for years?

NoViolet Bulawayo: I'm just thrilled to be sharing the book with readers at last; it was enough for me to have finished the thing and done what I knew to be my best, but the wonderful reception it's been getting is definitely making it a sweet-sweet premier, just super exciting and humbling you know. But of course sometimes one does feel a bit vulnerable, a bit anxious, but I suppose that comes with the territory and I just have to deal. I have indeed worked on other things before the novel, many, many other works, but the thing is that We Need New Names is The debut for me - I didn't write the book, I bled it. That's just what it took and I can't say the same of my other stuff that seemed much, much easier to create.
·
Sigauke: Maybe I know the answer to this one already. I think the answer is that the novel idea came first before the short story that won the Caine, and the other short story that came out in Callaloo. So the question is: what came first, "Hitting Budapest" or We Need New Names?

Bulawayo: Names definitely came first, and "Hitting Budapest "and the Callaloo piece came later, but of course both were birthed and imagined onto an existing larger piece and would not have happened without Names. That the world saw 'Hitting Budapest' first, and that it is the first chapter of the novel doesn't really mean anything or speak to the actual process, but of course that's one of those
things that nobody knows but the author.

Sigauke: Very soon, literary educators across the United States and the world will be using your book in the literature classroom. What would you like to share with these readers about how to read We Need New Names? Is this the kind of book you would have loved to read when you were in the literature classroom as well ?

Bulawayo: Ha, I very much trust the readers will figure out how to read Names just fine since that is what they are in these literature classrooms for -- I will not offend them by telling them how to do it now! You know in as much as I'm a writer I'm also a reader of my work, reading as I create, and while my work can be dense, I happen to be a reader who is not too serious and who enjoys being pleased on the page. One of my best things about Names is that it was able to do this on many levels, and I would have appreciated it as a student.
·

Sigauke: Your signature phrase, even before we knew about We Need New Names was "Zim Lit, baby", which I understand has to do with your celebration of the direction Zimbabwean literature is taking. Can you just tell us what you think is the state and future of Zimbabwean literature? If the country experiencing a literary or creative boom?

Bulawayo: I remember the time I was singing that phrase; I'd been writing alone for a while,then I got onto the social media bandwagon around 2009 or so and connected with a wave of Zimbabwean writers I'd never heard of; people like yourself, Tinashe Mushakavanhu, Novuyo Tshuma, Ivor Haartman, Tendai Huchu, Barbara Mhangami, Mbotse Ncube, Christopher Mlalazi, Beaven Tapureta, Petinah Gappah, Fungai, Machirori; poets who both wrote and performed like Batsirai Chigama, Concrete Ground, Mbizo Chirasha and so on. Then there were writers who were writing nonfiction, socially engaged stuff. Work was shared on blogs, the online journals, Munyori (Literary Journal) and Story Time, and people's facebooks and it was just a beautiful writing jambanja, and the few prizes won between ourselves definitely upped the volume.

Anyway, you could feel Zimbabwean literature breathing, shuffling and stomping its feet and anting to go somewhere, and it still is; the state is very much that of possibility. (I can't count the number of emails I get from Zimbabwean writers who want me to "read my novel" or "find me an agent" or "help me publish my book" --- all things I cannot do unfortunately since I don't run anything and all this is not my territory). Despite all the possibility, it is impossible to talk boom at the moment-- the state of the industry on the ground is not ready for a boom, is not trying to make a boom happen but of course there are larger issues at play as we know, it's not the industry's fault. We'd need everything from concrete publishing opportunities, to engaged training to nurture our talent, to funding, to an active culture of reading and criticism, to writers daring to go where previous writers have not gone, to more exciting incentives like solid contests and festivals.These are our issues, and while I'll always have respect for anyone creating under these impossible conditions but there's a tough, tough road ahead.
·
Sigauke: How do you think Zimbabwean literature has benefited from the World Wide Web?

Bulawayo: Like any other writers, Zim writers have taken to the internets; I'm thinking the discontinued Storytime and Munyori, which, while not strictly Zimbabwean, simply mean a lot to us because the editors are Zimbabwean, which drew some Zim voices. This is in part how I met some of the names I mentioned earlier. I 'm currently watching this newly formed portal, Ztorie Bhuku, straight out of Zim and featuring unpublished writers, and it seems they are younger. Anyway, it's all necessary energy, bearing in mind that the publishing opportunities on the ground are very, very limited, and this is all necessary to our growth.

Sigauke: Are there any launches planned for African counties?

Bulawayo: I have launches in South Africa and Zimbabwe in the later part of the summer.

Sigauke: What question have you not been asked, and what is your answer to it?

Bulawayo: What are you drinking to recover from writing Names? Ethiopian Honey Wine, but will take cases sent to my address.