Alexa Mergen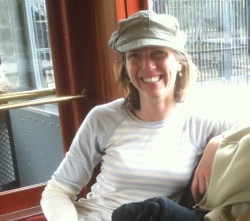 Alexa Mergen's poems appear in print and online journals including Kritya,
Packinghouse Review, Pedestal Magazine, Sow's Ear Poetry Review, and in two
chapbooks, "Three Weeks Before Summer" and "We Have Trees." She leads community workshops in poetry and writing with an emphasis on noticing how natural and human-constructed worlds intersect. She lives in Sacramento with her husband, journalist Matt Weiser.
---
Hand on Heart
I pledge allegiance to the poems
Arisen from sorrow and joy,
And to the truths contained therein,
One art,
For everyone,
Unifying, with
Beauty and regard for all.


Space

May we find when we die permanent planets
hop-skip to playful Pluto
march to Mars
swirl into the galaxy.
Let the fearful remain on Earth
ghosts
unfleshed among fleshed.
Send me
to our moon
by cold feet
for eternity :
gibbous, crescent, sliver, new, full : to
evermore wax and wane as
lovers
quiver turtles burrow
owls scream wolves
yelp madmen
rave in gauzy light.