M. e. Miller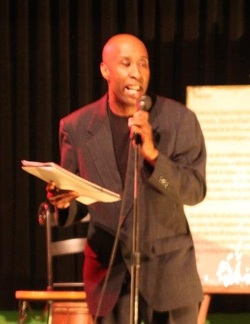 M.e. Miller, also known as Michael Ellis, was professionally published before he graduated from high school. His dialect poems, "Black shoes" and "What Ya Stealin for?" were enough to impress the University of Puget Sound, where he majored in English and minored in Journalism. Six years later Ellis went from the page to the stage, performing in more than a hundred readings. He became an orator, and a dramatist, teaching himself to perform in more than twenty different voices. He used his ability more often to help people who were victims of abuse and injustice. On stage he tells stories by combining prose and poetry, naming his style "Prosetry".

Compared often to renaissance poet Langston Hughes, Ellis worked for years to expand his skill set. He wanted to be more than a dialect poet. The pressure of historical comparison began to take a devastating toll. In 1996 Pulitzer prize winning poet, Gwendolyn Brooks, wrote him the first of four times. She told him to calm down and that it would all make sense in time.

In 2006, he was invited on scholarship to Howard University for the first chapter of a novel, Dear Oprah. He performed at the Hurston- Wright annual convention. Months later he was also honored with a prize at Sacramento State University for that same novel. He was also awarded a second prize for his children's short story, "The Legend of Sleepy." In 2012 M.e. Miller returned to the poetry scene after many years away. His book, Goodbye Langston, a tribute to Langston Hughes, will be released later this year.


---
The Ghost of Slim

And I walked down that cold eerie avenue
Past Goldberg's Pawn Shop
Past the Rising Sun Mortuary
Past Sunny's Rib House

And the moon above shined like White silver
The moon above shined whiter than silver
And those Harlem winds blew easy

And I saw a boarded up Blues Club
That looked more like a shack
I wanted to turn the other way
But it was too late to turn back

That dimly lit saloon

Was filled with Black ghost

Ol' Lamont the bartender

Curtis the cook

And Wilson the host


Ol' Fats beat his piano like a boxer

While beautiful black browed ladies

Danced as graceful as a ballet

Sliding-Gliding-Dancing the night away

And those Harlem lights

Just like those Harlem nights

Burned low and dim

And everyone was there except Slim


They said Slim was walking down the Backstreets

Right where those ol' trains used to meet.

When I saw him I was so scared,

I said, "Time to hit it, feet."


Slim said, "Boy are you afraid of a ghost?"

"No," I said, reluctant to go close.


He said, "Seventy years ago the men set fire

To the Cotton Shack.

They say things in Harlem

Was getting a little too Black...


There was nothing left but charred spirits

Still wanting to dance and sing

Still wanting to play and swing

And do their thing

And nobody could see them but me.

Ol' Nelson told the people he saw them

And they put him in the infirmary.

They locked ol' Nelson in the
infirmary.




The Death of Slim


Right before the Fire

They took Slim out

To some distant place

Saying, "Boy, do you believe

In the Great White Race?"

And Slim gave the mens a solemn reply

Saying, "Before you hang me high


Just let me blow this saxophone one last time."


And he blew that Sax up toward heaven

Loud and sweet enough for Jesus to hear it

An' ol' Slim was filled with the Spirit


And those sweet notes

Sailed past Goldberg's Pawn Shop

Past Sunny's Rib House

Over that Rising Sun Mortuary

Right into that ol' Blues shack

And they didn't turn back.


And Slim showed no fear

And he shed no tears

He just played those

About-to-be-lynched

By-the-Great-White-race

Nobody-can-help-me

Nobody-can-hear-me

But-God-Blues.



Billie's Blues
(For Janis Joplin, Whitney Houston and Amy
Winehouse)

The Government was supposed
To lock up Billie's Blues
For a thousand years.
No woman after her
was ever supposed to cry that many tears.
A spokesman for the Smithsonian
said her sorrows were securely locked
inside but disappeared exactly a year after she died.
When the guards got there
They couldn't find those Blues nowhere...

And The Department of Blues Control
No longer know the whereabouts of her soul.

How do you tell 200 million people
There's a Blues outbreak?
Symptoms: morning heartaches.

How do you alert the Press?
Billie's Blues are walking the streets and can't rest.
Both the FBI and CIA
Conducted a search from Harlem To Tennessee.

Lover Man, Oh Where Can You Be?

Six Years later they found Dorothy
sprawled out dead on the floor
And those Blues claimed one more.

The Coroner found no signs of foul play.
They said those pills took Ms. Dandridge away.
But somewhere in some government file
Are the truer answers and clues…
A top secret outbreak of Billie's Blues.


Birth O' The Blues


My Grandparents gave birth to sorrow
During the Middle Passage.
Defying sea captains who cursed harsh reminders
While tossing their bodies to a sea more kinder.
Praying and singing as they jumped
Hearts beaten mournfully pumped.
But onward marched the accursed seed
Holding to hopes of being freed.
Singing from within the chastening hymn
We bid you our God. Do save us from them.
Crying and sighing with bleeding hearts torn
Reaping and Weeping
The Blues are born.

My Grandmother taught America to lament.
She sat by the Mississippi and created the Spiritual.
Scrubbing and scraping for the Master's wives
Yes Ma'amin and no Sirin all their lives.
Smiling all the while with hidden resentment
Sharing with only God her discontentment.
Subjecting herself to the beast's seed
While upwardly praying her lineage freed.
Parting her thighs for the tyrant's charms

Praying he'd die there in her arms.

Coping and hoping and paying our dues
Waiting and anticipating
The Birth of the Blues.

My Grandfather taught the new world to reap.
From his heartfelt sorrow he made jazz.
Bending and bowing to avoid the Pirate's rod
Spirit calling, "Where are you God?"
The Master overjoyed at his servant's keeping
But slowly awakened a race in sleeping.
For out of the trodden soil a Nat Turner grows
Then comes a Marcus from the dust below.
Inwardly turned and outwardly torn
All this dyin' and crucifyin'
The Blues are born.

My Mother gave Harlem a song.
She opened her mouth and gave birth to the Blues.
The Oppressor prized his singing commodity
Never quite understanding the profound Black oddity.
Staring with awe while the caged bird would sing
Mistaking for joy sorrow's piercing sting.
Her children eyeing the oppressor
With malice unshown.
In the dark, the seeds of their anger become full grown.
No one aware of that which was to be-
A strange twist in our history.
A Martin cries a Malcolm is born
A song of hope for spirits torn.
All watch as the Blues are born.

My Father showed white folk to labor.
He created gospel from his upwardly cry.
Told of a God and a home across the sea
But all so dark and distant
In his Black memory.
Growing intolerant of the oppressors hand
Demanding the respect due to a man.
Hanging like fruit on Southern trees high
Lynching crews laughed as they watched him die.
Not knowing the blood dripping to earth below
Would make a thousand seeds to rise and grow.
Awaiting my mother who somehow made it through
Two people about to give
Birth to the Blues.

I must teach America a new hymn
Before the vines of wrath choke the fruit.
Vague my sojourn but not forgotten-
After the apple is eaten the core grows rotten.
The blood of my people like the river flows
Feeding the anger in the least of those.
For passive winds grow fervent
And shake an' toss the mighty sea.
Oh would that you be observant
And make my people free.
For surely the God ordains
We break this wretched rule.
Glad to meet you, Oppressor
I am the Blues.


What Sends Them Harvard Poets

(For Langston Hughes)


What sends them Harvard poets

I just couldn't do it, Sir.

What sends them Harvard poets

I just couldn't do it, Sir.

They'll never give me a Pulitzer.


What tickles them Yale poets

Just leaves me sad an' a grievin'.


What tickles them Yale poets

Leaves me sad an' a grievin'.

Never seen Birch trees on a snowy evenin'.


Them Oxford poets got they poems

An' I gots mine...

So I'll be movin' on, Langston

Movin' down the line...