Bob Stanley, Sacramento, CA.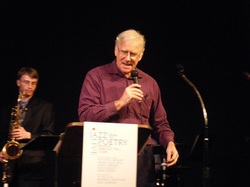 Poet Laureate of Sacramento from 2009 to 2012, Bob Stanley teaches English at California State University, Sacramento. Mr. Stanley has organized readings, conferences and workshops all over northern California for nearly forty years. In 2009 he was chosen by the California Arts Council to edit Sometimes in the Open, an anthology of poems by poets laureate of California's cities and counties. Bob has published two chapbooks, Walt Whitman Orders a Cheeseburger, (Rattlesnake Press, 2009) and Eleven Blue Strings(little m press, 2012). His poems have been published in many journals, including California Quarterly, Calaveras Station, and Suisun Valley Review, as well as in The Sacramento Bee. A fifth generation Californian and UCLA graduate, Bob and his wife Joyce have raised their four children in Sacramento. His first full-length poetry collection, Miracle Shine, will be published by CW Press in 2013.

---
The Taco Truck
They had seen the taco truck down Sepulveda, but couldn't catch it. It was said their kobe was
he finest this side of Kyoto and the salsa was laced with peppers from the foothills
above the Sonora – flavored with the fire of a desert sunset. The first Twitter feed at 5:47
led them to City of Industry, once-bustling, blighted by vacancy, but easy to reach from
the 5 and the 91. Traffic looked bad, even at that hour, but their spirits were high, as they
dreamed of their goal. The hard-shredded goat cheese from a cave in Oregon, that
Lompoc cabbage delivered via one-speed bicycle, and of course the beef, that hand-
massaged, milk-marinated beef. Ben Stiller had called it a heavenly amalgam of flavors,
his tongue cried out for more. But on that fateful day, it was not to be. Nine million
vehicles with nine million hungry citizens tried to squeeze onto not enough elevated
roads. Clouds formed in the west, and the red lights of the taco truck blended in with all
the others, and merged into the sea of lights on the 405.

The Banjo Justifications
Living on a hill there was only one direction down and the instrument had an easy open
sound so the boy played, or thought he did

Wind carried strands of water through cuts in the hill. the boy saw lights wink from
Berkeley at sunset

When it came time to leave nobody was ready and that took time to unravel

But the banjo was always ready to embrace the boy with its staccato tones

An uncle had once played, but left the banjo in front of an oncoming tractor, or maybe it
was a mule

Generations of jews listened to it in their ghettos, but that wasn't exactly a banjo, and
nobody was going to admit to the boy that they were his jews.

He learned about the tunings, how the minor and the major key can be felt at the same
time.

One day the banjo was gone

He had learned to play it.



Where I'm from
I'm from a foot-tapping hip-hopping
finger snapping place
where the ideas come out where
all the ideas come
in

I'm from whipped
cream like a bad dream and they all scream
when it hits my face and drips
into the space below my ears
across the surface of the moon of
my nose, eyes closed

I am from poems I didn't
understand (and some I did) from
listening
watching voices hearing faces
gathering the shy or rowdy sounds
from wonderful wandering something
changed how I felt
who I what I how I knew -
Am I from you?

Who wants to read first?
the last one, hiding his face
from Athens by way of Shakespeare
lover of Lysander beneath the
redwoods and oldest oaks shading the summer sun
I am from the beat of the drum
I am from attitude

The attitude of ideas
the attitude of saying what you
must say
and knowing the ways of
knowing and writing
the ways of writing I am from poems and
stories and arguing and singing and sharing of
love love love love
from you are from we are from spoken
slam poetry word all of us together
where I'm from's
changed forever.


Another Semester Ends
Because the goodbye is a dependent clause
Because the goodbye is often unsupported and without specific detail
Because the goodbye is rarely organized, flowing from a last-minute need to say or write
what is due, and therefore lacks structure, much less effective transition or "flow"
Because the goodbye lacks development, and can seem to end as soon as it begin
Because there is no formal process of review, because goodbyes sometimes happen
without warning, because they often use wordy constructions that don't get to the
point, because punctuation is scarce
And perhaps most of all because goodbyes are implicit, not explicit in their message of I
hope to see you again soon, or let's hang out like this again sometime
I'm looking for a better way to leave you a note
as you go, as I go.

Hinge
The way you told us, you slammed the door
shattered glass onto the sidewalk
as you stormed out onto Mission Street,
father and two brothers staring back at you.

Everything changed for the family then:
for one, your name, instead of Salzman,
Jewish, salt-man, looking back toward
a land your parents fled with you,

you came up with Stanley, after the steam car.
Sounded American enough. For religion you
never found a replacement, but money was OK.
So you opened up a store across the street

from your brothers, sold the same furniture
they sold, didn't speak to them for twenty years.
Two stores, one family, split forever on either side
of the door you closed that cold San Francisco day.

Your father, Harry Salzman died,
two days after I was born. He never knew me,
his great-grandson, knew his grandson not so much,
knew you, his son, oy, son Joseph, least of all.