ISSN 2168-6440
"A Day at Tsholofelo Park" by Gothataone Moeng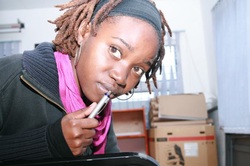 By midday, Kolobetso had to send her eighteen year old cousin to the shops for
more supplies. The eight bags of potatoes, the packs of Russian- sausages and
the hot-dog rolls were all gone. The bottles of mustard and tomato sauce had
long been squeezed out.
"You better hurry back," Kolobetso said to her cousin. She sat on a wooden stool that she kept meaning to replace, her hips and thighs cascading down its sides. The flesh on her arms made gentle inconspicuous ripples as she hunched over and rummaged around in her bosom. First the bosom was patted through the T-shirt and apron that she was wearing, and then her hand went into her bra, first lifting one breast after another. Finally, her fingers found the parcel that she was looking for. She lifted it out before returning her breasts to their rightful places.
READ MORE...
---
"Funeral Gastronomy" by Ivor W. Hartmann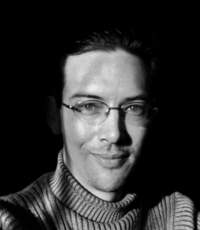 "There is no dignity in dying and death, no matter what anyone says to the contrary, but there can be some satisfaction. We are, on a cold winter's day, gathered around his graveside and the tears are flowing all around me. The irony is of course that not a single person here, except me, had even seen him in the last decade of his life, longer than that for some. Nor do they know we were best friends, to them I am just one of his servants."
READ MORE
---