Ivor W. Hartmann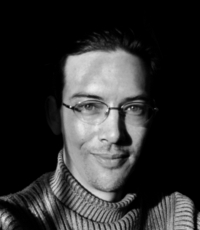 Ivor Hartmann is a Zimbabwean writer, and author of Mr. Goop (Vivlia, 2010). He was nominated for the UMA Award ('Earth Rise', 2009), awarded The Golden Baobab Prize ('Mr. Goop', 2009), and a finalist for The Yvonne Vera Award ('A Mouse amongst Men', 2011). His writing has appeared in African Writing Magazine, Wordsetc, Munyori Literary Journal, Something Wicked, and The Apex Book of World SF 2, among others. He runs StoryTime, a micro-press and publisher of the African Roar annual anthology, and is on the advisory board of Writers International Network Zimbabwe.
---
Funeral Gastronomy
There is no dignity in dying and death, no matter what anyone says to the contrary, but there can be some satisfaction. Weare, on a cold winter's day, gathered around his graveside and the tears are flowing all around me. The irony is of course that not a single person here, except me, had even seen him in the last decade of his life, longer than that for some. Nor do they know we were best friends, to them I am just one of his servants.

Jabulani Suvakani, whose coffin we now stand around, died a rich man. By some twist of public whimsy his books, largely ignored for most of his writing life of some fifty years, became insanely popular in e-Book form. He had survived until that point by teaching English at the local high school and tutoring young writers for a pittance in our small hometown of Oudtshoorn.

His main focus? The integration of African mythology, modern science, and superbly imagined futures where one became theother and vice versa. From the first, his books were written off by literary critics and scholars as pulp Science fiction. However, fifteen years ago his books were cited in the top ten list of most stolen books. Not much later, when those youths who had done the stealing had jobs, money, and e-Readers, the books became bestsellers, all of them. It was a phenomenon usually reserved for dead writers, when they were rediscovered. Jabulani had the good fortune of this occurring while he was alive.

Jabulani hired me soon after the money began to roll in. I was once his student with literary aspirations that neverdid amount to much, but we had always got along well and spent many afternoons extolling the virtues and downfalls of various writers and styles. We met again years later at our local supermarket, I was the bagman who packed and took hisgroceries out to his car. After re-igniting our previous friendship with a long conversation by his car, he offered me a job.

I became his personal assistant, tending to the stupendous influx that came with great fame and fortune. Providing him witha much needed buffer against the world (and especially his relatives), so he could get on with what he loved best, writing.

We were an odd pair, him the aging famous and rich black writer and me the poor white servant. It was something we usedto laugh about often. The black youth who grew up on the streets during apartheid being now tended by his former white oppressors. But there was no bitterness in this laughter from either of us, even though we both received our share of flak — this being a town that seemed largely untouched by the revolution that had occurred elsewhere in the Rainbow nation.

The cemetery is packed to overflowing and even the President is here to pay his respects to 'a true son of our great nation', as he stated in his address. This, despite the fact that Jabulani was a vocal critic of his administration and lambasted him often in his weekly newspaper column for corruption and nepotism in government tenders.

As I look around I have to laugh inwardly as Jabulani surely would be doing too. There is not a single person here whom he had an ounce of respect for; it in fact would seem to be a line-up of his enemies. This includes his ex-wife and daughter. The wife who thought she was marrying a certain future, which turned out to be an exercise in poverty and she divorced him after only three years. The daughter, who never once wrote, phoned, or visited him, in all her thirty-five years, despite his many attempts to see and communicate with her. Here they are now at his graveside weeping the most loudly, their tears cutting deep tracks through thick make-up, no doubt in the hopes he has left them at least part of his great fortune.

I have to leave them now; there are things to do still. Jabulani was very specific about his funeral arrangements. After he was diagnosed terminal, we had long conversations deep into the night though they were far from morbid.

I arrive at the small run-down house he lived in for most of his writing life. Outside, a large tent has been erected, large enough to seat all those invited to the wake. Everything is on track, even though I have to sort out a few minor logistical problems. This is where they will all eat and drink before the lawyer reads Jabulani's will; the prime reason most of them accepted the wake invitation, even the President.

They arrive and for the most part are suitably sloshed by an excellent free bar, as we intended, before the main, and only, course is served. A fine, delicious stew they all get stuck into until there is nothing left, not even gravy.

Drunk and full they are, and it's time for the reading of the will. I call the lawyer to the stage. He reads the will and each and every face is soured. Jabulani has left his fortune (except a small private stipend for me they will never know about) to a trust that will fund, teach, and publish, writers from all over Africa. The tears of the ex-wife and daughter have dried up now, even the president seems gloomy. But Jabulani and I are not done with them yet.

I take great pleasure in turning on a big screen TV and sliding in a DVD into the player. Jabulani's face appears on the screen. I know what's going to happen shortly, it's time for my planned exit though I know I'll get to see it on many TV stations later.

Sure enough, one helicopter and jet ride later I'm on a beach in a South American country that has no extradition policy, watching a CNN special report.

Jabulani's beaming face soundly, and in great detail, tells them what bastards they all are and why. Then, his pièce de résistance, he informs them that the meaty symphony of wonderful stew they have all just eaten was composed of his body. They don't believe him at first and laugh nervously, but soon realise he was not joking as the recording ends. They turn green, literally, and amidst the vociferous exclamations, many start to vomit. I laugh and laugh and laugh, and know somewhere Jabulani is laughing with me too.