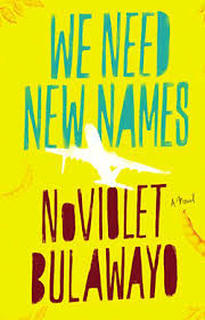 Why We Need New Names A Review by Okwudili Nebeolisa.

The novel We Need New Names boldly begins with the story of six children (Darling, Bastard, Chipo, Godknows, Stina, and Sbho) who are on their way to Budapest to steal guavas. One of them, Chipo, is pregnant and usually hinders their walk to Budapest. Budapest, here, is pictured as one of those suburbs these children see in movies, with magnificent houses that have satellite dishes and trees full of fruits because their owners are not interested in them. We are carried through the shack streets of Paradise to Fambeki to Shanghai (where there's a Chinese construction site) in the lives of sharp-eyed kids. Darling, the narrator, dreams of leaving her Zimbabwe for America, while the foul-mouthed Bastard dreams of leaving for South Africa.

NoViolet carries us through communities with urging need of housing units, schools, clinics, in the most humorous way you'll not just center your thoughts on a blurry and 'shacky' neighborhood with people incapable to aid themselves, while the Chinese are building 'big big malls' and 'all nice shops' where people can find designer wears like Gucci, Louis Vuitton, Versace, and so on…

Darling's father has been off to South Africa, so she has to live with her mother and grandmother (Mother of Bones) in a tin house in Paradise. Since her father no longer lives with them, there's an unknown man who comes when it is supposed that Darling is asleep and the candlelight is put off and he and her mother leap unto the bed made of chicken and duck feathers, 'old pieces of clothes, and all sorts of things'. A man who is not concerned about her, who is pretending to be asleep.

There are harrowing incidents seen through the eyes of a guileless girl, like when the female children gather to abort Chipo's pregnancy because they feel it is hindering their normal lives and afraid Chipo might die out of childbirth; there are stiffening incidents, like Darling's father returns with some sickness that her mother warns her not to tell anyone because they have to watch him, cook for him, feed him, worry over him, and even change his clothes; funny ones like when their pastor, one Prophet Revelations Mborro says that he'll need $500 and two white virgin goats for the their father's healing. There's the lurking urge of people who are most eager to leave their country for greener pastures.

The book could as well be broken into two parts: the first where Darling narrates incidents in Zimbabwe, and the second where she lives with her Aunt Fostalina in America, who is her mother's twin. This second part begins with something like a sad poem of how people are leaving in droves to far and near countries, and even countries whose names they can't spell, the poem beginning like this: 'Look at them leaving in droves, the children of the land, just look at them leaving in droves…' In America, Darling misses her friends, hates snow, and only relishes when Aunt Fostalina's friends from Zimbabwe visit, so they can speak their language and cook home meals and listen to music from their country. It is evident that even with the homesickness and the bad America weather, she's losing touch with her friends back at Zimbabwe.

NoViolet Bulawayo is a Helen Oyeyemi with a distinctly African voice.

But the book is not all perfect – I find that she's pretty protecting of national images on the scene of America, yet trying to make it known that there are 419 email scammers from Nigeria, and of all instances of madness mentioned in the novel, it is only men who are known to suffer from it. There are also the questions of time-shifts I had problems with, like the case of the 9/11 Twin Tower bombing, which, in relation to the 2009 case of Chris Brown beating his girlfriend Rihanna, is a too-far age for these children to be reminiscent of the former case.

It is a startlingly interesting book all through, a dazzling debut, not just all about poverty in contemporary Zimbabwe, and migration, but it is a daring look into the question of identity…


Bio: Nebeolisa Okwudili is currently a student at Federal University of Technology, Minna. His poems and short stories have been published in The Latin Heritage Foundation world series, the New Black Magazine, The African Street Writer, The Sun Newspapers, Blueprint Newspapers, and other national dailies. He won third place at the 2012 Asian International Writing Competition in the poetry category.