William O'Daly is a poet, translator, and fiction writer. His translations include eight books of the poetry of Chilean Nobel laureate Pablo Neruda (Still Another Day, The eparate Rose, Winter Garden, The Sea and the Bells, The Yellow Heart, The Book of Questions, The Hands of Day, and World's End), all published with Copper Canyon Press. Also with Copper Canyon, he has published a chapbook of his own poems, The Whale in the
Web. Mr. O'Daly was a finalist for the 2006 Quill Award in Poetry and was profiled on
NBC's The Today Show. He is a National Endowment for the Arts Fellow. O'Daly will be joined by the Chilean poet, Maria Elena B.Mahler, who will read two of her
Spanish translations of O'Daly's poems and several poems of Pablo Neruda's in the original Spanish, which O'Daly will then read in his English translation.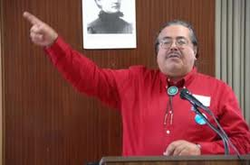 Francisco X. Alarcón is the author of eleven volumes of poetry. His most recent book of bilingual poetry for children,
Animal Poems of the Iguazú (Children's Book Press 2008), was selected as a Notable Book for a Global Society by the International
Reading Association, and as an Américas Awards Commended Title by the
Consortium of Latin American Studies Programs. Mr. Alarcon has been awarded the
2006 Jane Addams Honor Book Award for his previous bilingual book titled
Poems to Dream Together (Lee & Low Books 2005). He has been awarded the 1997, 2000 and 2002 Pura Belpré Honor award by the American Library Association and the National Parenting Publications Gold Medal for his acclaimed: "Magic Cycle of the Seasons" series published by Children's Book Press of San Francisco.

Benefit fundraiser reading for C.O.R.E., $6
suggested donation.
Monday
July 30 at 7:30 PM
1719
25th Street SPC
Hosts:
Paco Marquez and Frank Graham